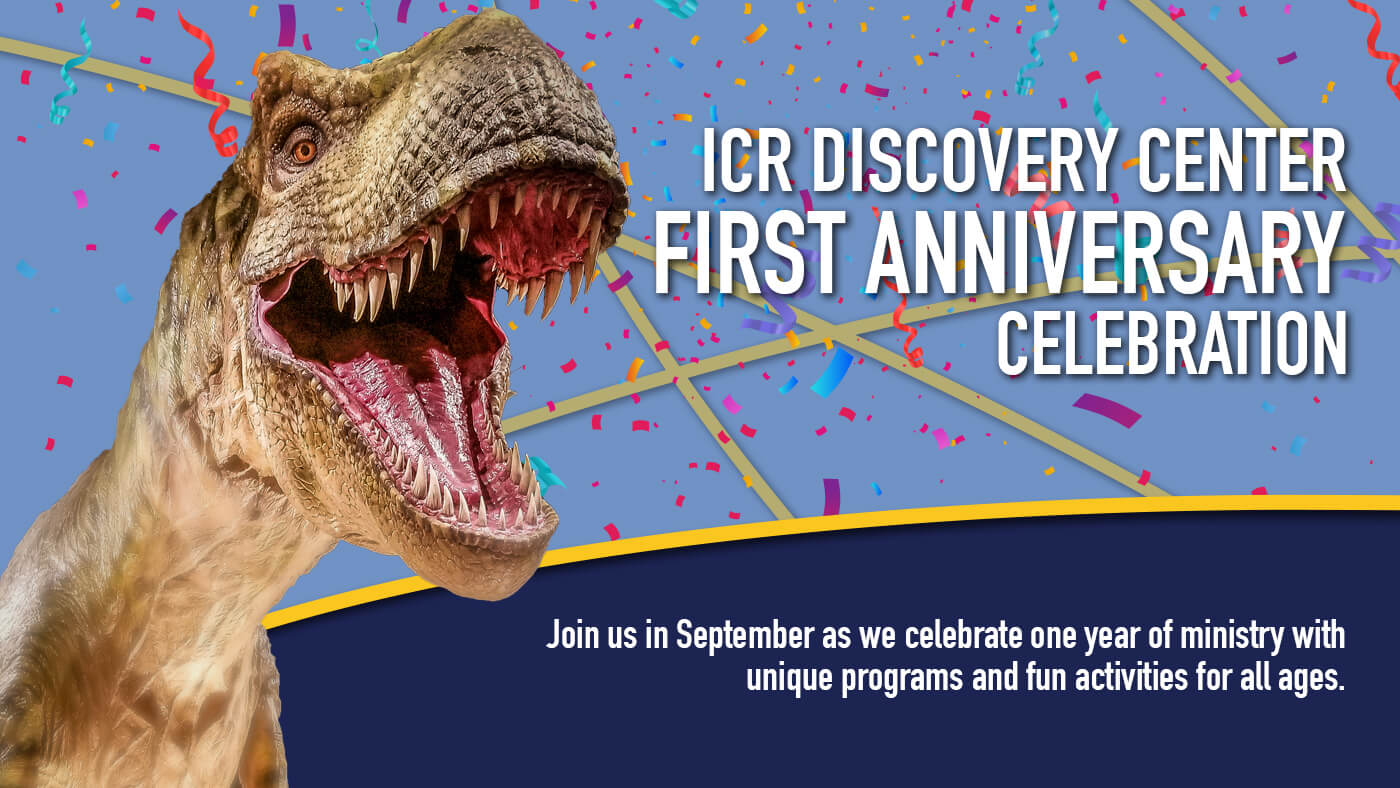 First Anniversary Celebration
September 1-5, and Labor Day, September 7
ICR Discovery Center
1830 Royal Lane
Dallas, TX 75229
Come celebrate the one-year anniversary of the ICR Discovery Center for Science & Earth History! Each day of this event includes unique programs and fun activities. We'll have food trucks, hands-on science experiments, giveaways, a petting zoo, and more!*
We're excited to debut our new planetarium show: Exploring Deep Space. Reserve your ticket so you can be one of the first to watch it!
We'll also have opportunities to serve the community together. Carter BloodCare will be on-site for two local blood drives. And all planetarium ticket sales for this week will be donated to OurCalling—a local discipleship ministry for the homeless.
Join us to celebrate all God has done this year as we continue to discover how science confirms creation.
Check the event schedule below to plan your visit,** and click here to get your tickets for the Exhibit Hall and Planetarium.  Live presentations and all other activities for this event do not require an additional ticket purchase.
*Due to the Dallas County court order, guests age 10 and older must wear a face mask inside the Discovery Center.
**Please note the scheduled activities are subject to change due to inclement weather or other factors.
First Anniversary Celebration Schedule
Tuesday, Sept. 1
| Time | Activity |
| --- | --- |
| 10:05 - 10:30 | Planetarium Show: Creation in the Solar System |
| 10:35 - 11:00 | Planetarium Show: Exploring Deep Space — NEW |
| 11:00 – 1:30 | Parker Eng & Telescope: A Look at the Sun |
| 11:05 - 12:00 | Live Presentation: Dr. Hebert – Global Warming and the Christian |
| 11:10 - 12:00 | Planetarium Show: Secret Ocean |
| 12:00 - 2:00 | Caricatures |
| 12:05 - 12:30 | Planetarium Show: Creation in the Solar System |
| 12:35 - 1:00 | Planetarium Show: Exploring Deep Space — NEW |
| 1:00 - 1:15 | Storytime |
| 1:00 - 2:30 | Scientist-Led Exhibit Hall Tour: Dr. Thomas |
| 1:10 - 2:00 | Planetarium Show: Secret Ocean |
| 2:05 - 2:30 | Planetarium Show: Creation in the Solar System |
| 2:35 - 3:00 | Planetarium Show: Exploring Deep Space — NEW |
| 3:00 - 4:30 | Scientist-Led Exhibit Hall Tour: Dr. Thomas |
| 3:10 - 4:00 | Planetarium Show: Secret Ocean |
| 4:05 - 4:30 | Planetarium Show: Creation in the Solar System |
| 4:35 - 5:00 | Planetarium Show: Exploring Deep Space — NEW |
Wednesday, Sept. 2
| Time | Activity |
| --- | --- |
| 10:05 - 10:30 | Planetarium Show: Creation in the Solar System |
| 10:35 - 11:00 | Planetarium Show: Exploring Deep Space — NEW |
| 11:05 - 12:00 | Live Presentation: Mr. Sherwin – The Wonderful Oceans |
| 11:10 - 12:00 | Planetarium Show: Secret Ocean |
| 12:05 - 12:30 | Planetarium Show: Creation in the Solar System |
| 12:35 - 1:00 | Planetarium Show: Exploring Deep Space — NEW |
| 1:00 - 1:15 | Storytime |
| 1:00 - 2:30 | Scientist-Led Exhibit Hall Tour: Dr. Hebert |
| 1:10 - 2:00 | Planetarium Show: Secret Ocean |
| 2:05 - 2:30 | Planetarium Show: Creation in the Solar System |
| 2:35 - 3:00 | Planetarium Show: Exploring Deep Space — NEW |
| 3:00 - 3:50 | Science Workshop: Mr. Sherwin |
| 3:10 - 4:00 | Planetarium Show: Secret Ocean |
| 4:05 - 4:30 | Planetarium Show: Creation in the Solar System |
| 4:35 - 5:00 | Planetarium Show: Exploring Deep Space — NEW |
Thursday, Sept. 3
| Time | Activity |
| --- | --- |
| 10:00 - 3:00 | Blood Drive - Pre-register now |
| 10:05 - 10:30 | Planetarium Show: Creation in the Solar System |
| 10:35 - 11:00 | Planetarium Show: Exploring Deep Space — NEW |
| 11:05 - 12:00 | That's a Fact Live Q&A: Mr. Sherwin |
| 11:10 - 12:00 | Planetarium Show: Secret Ocean |
| 12:05 - 12:30 | Planetarium Show: Creation in the Solar System |
| 12:35 - 1:00 | Planetarium Show: Exploring Deep Space — NEW |
| 1:00 - 1:15 | Storytime |
| 1:00 - 1:50 | Science Workshop: Dr. Hebert |
| 1:10 - 2:00 | Planetarium Show: Secret Ocean |
| 2:05 - 2:30 | Planetarium Show: Creation in the Solar System |
| 2:35 - 3:00 | Planetarium Show: Exploring Deep Space — NEW |
| 3:05 - 4:00 | That's a Fact Live Q&A: Mr. Sherwin |
| 3:10 - 4:00 | Planetarium Show: Secret Ocean |
| 4:05 - 4:30 | Planetarium Show: Creation in the Solar System |
| 4:35 - 5:00 | Planetarium Show: Exploring Deep Space — NEW |
Friday, Sept. 4
| Time | Activity |
| --- | --- |
| 10:05 - 10:30 | Planetarium Show: Creation in the Solar System |
| 10:35 - 11:00 | Planetarium Show: Exploring Deep Space — NEW |
| 11:00 – 1:30 | Parker Eng & Telescope: A Look at the Sun |
| 11:05 - 12:00 | Live Presentation: Dr. Thomas – Soft Tissues in Solid Rocks |
| 11:10 - 12:00 | Planetarium Show: Secret Ocean |
| 12:05 - 12:30 | Planetarium Show: Creation in the Solar System |
| 12:35 - 1:00 | Planetarium Show: Exploring Deep Space — NEW |
| 1:00 - 1:15 | Storytime |
| 1:00 - 2:30 | Scientist-Led Exhibit Hall Tour: Dr. Clarey |
| 1:10 - 2:00 | Planetarium Show: Secret Ocean |
| 2:05 - 2:30 | Planetarium Show: Creation in the Solar System |
| 2:35 - 3:00 | Planetarium Show: Exploring Deep Space — NEW |
| 3:00 - 3:50 | Science Workshop: Mr. Sherwin |
| 3:10 - 4:00 | Planetarium Show: Secret Ocean |
| 4:05 - 4:30 | Planetarium Show: Creation in the Solar System |
| 4:35 - 5:00 | Planetarium Show: Exploring Deep Space — NEW |
Saturday, Sept. 5
| Time | Activity |
| --- | --- |
| 10:00 - 3:00 | Blood Drive - Pre-register now |
| 10:05 - 10:30 | Planetarium Show: Creation in the Solar System |
| 10:35 - 11:00 | Planetarium Show: Exploring Deep Space — NEW |
| 11:00 - 3:00 | Petting Zoo |
| 11:00 - 3:00 | Music & Fun at KLTY Booth |
| 11:05 - 12:00 | Live Presentation: Dr. Clarey - The Truth of the Global Flood |
| 11:10 - 12:00 | Planetarium Show: Secret Ocean |
| 11:30 - 1:30 | Nacho Loco Truck |
| 12:00 - 2:00 | Kona Ice Truck |
| 12:00 - 2:00 | Caricatures |
| 12:05 - 12:30 | Planetarium Show: Creation in the Solar System |
| 12:35 - 1:00 | Planetarium Show: Exploring Deep Space — NEW |
| 1:00 - 1:15 | Storytime |
| 1:00 - 2:30 | Scientist-Led Exhibit Hall Tour: Dr. Hebert |
| 1:10 - 2:00 | Planetarium Show: Secret Ocean |
| 2:05 - 2:30 | Planetarium Show: Creation in the Solar System |
| 2:35 - 3:00 | Planetarium Show: Exploring Deep Space — NEW |
| 3:00 - 3:50 | Science Workshop: Dr. Thomas |
| 3:10 - 4:00 | Planetarium Show: Secret Ocean |
| 4:05 - 4:30 | Planetarium Show: Creation in the Solar System |
| 4:35 - 5:00 | Planetarium Show: Exploring Deep Space — NEW |
Monday, Sept. 7
| Time | Activity |
| --- | --- |
| 10:05 - 10:30 | Planetarium Show: Creation in the Solar System |
| 10:35 - 11:00 | Planetarium Show: Exploring Deep Space — NEW |
| 11:00 - 3:00 | Petting Zoo |
| 11:00 - 3:00 | Music & Fun at Air1 Booth |
| 11:05 - 12:00 | Live Presentation: Dr. Guliuzza – Major Evolutionary Blunders |
| 11:10 - 12:00 | Planetarium Show: Secret Ocean |
| 11:30 - 2:30 | Cinco Taco Truck |
| 12:00 - 2:00 | Kona Ice Truck |
| 12:00 - 2:00 | Caricatures |
| 12:05 - 12:30 | Planetarium Show: Creation in the Solar System |
| 12:35 - 1:00 | Planetarium Show: Exploring Deep Space — NEW |
| 1:00 - 1:15 | Storytime |
| 1:00 - 1:50 | Science Workshop: Dr. Thomas |
| 1:10 - 2:00 | Planetarium Show: Secret Ocean |
| 2:05 - 2:30 | Planetarium Show: Creation in the Solar System |
| 2:35 - 3:00 | Planetarium Show: Exploring Deep Space — NEW |
| 3:05 - 4:00 | Live Presentation: Dr. Guliuzza – Major Evolutionary Blunders |
| 3:10 - 4:00 | Planetarium Show: Secret Ocean |
| 4:05 - 4:30 | Planetarium Show: Creation in the Solar System |
| 4:35 - 5:00 | Planetarium Show: Exploring Deep Space — NEW |