Get Bold Conference
Join the Institute for Creation Research and Reasons for Hope* at the Get Bold! Student Conference to get equipped to boldly share your faith!
This exciting, and faith building conference for students in grades 8th – college, and their parents or youth ministry leaders, will be held right here, at the ICR Discovery Center!
This incredible conference will feature:
Evangelism and apologetics training sessions

Optional participation in an authentic street evangelism excursion

A free screening of ICR's latest film, Adam or Apes?

The opportunity to tour ICR's world-class Discovery Center

An entertaining and thought-provoking performance by Knight Illusions
Schedule and Registration
Click here to view the schedule and register.
For more information please call 214.615.8333 or email events@ICR.org.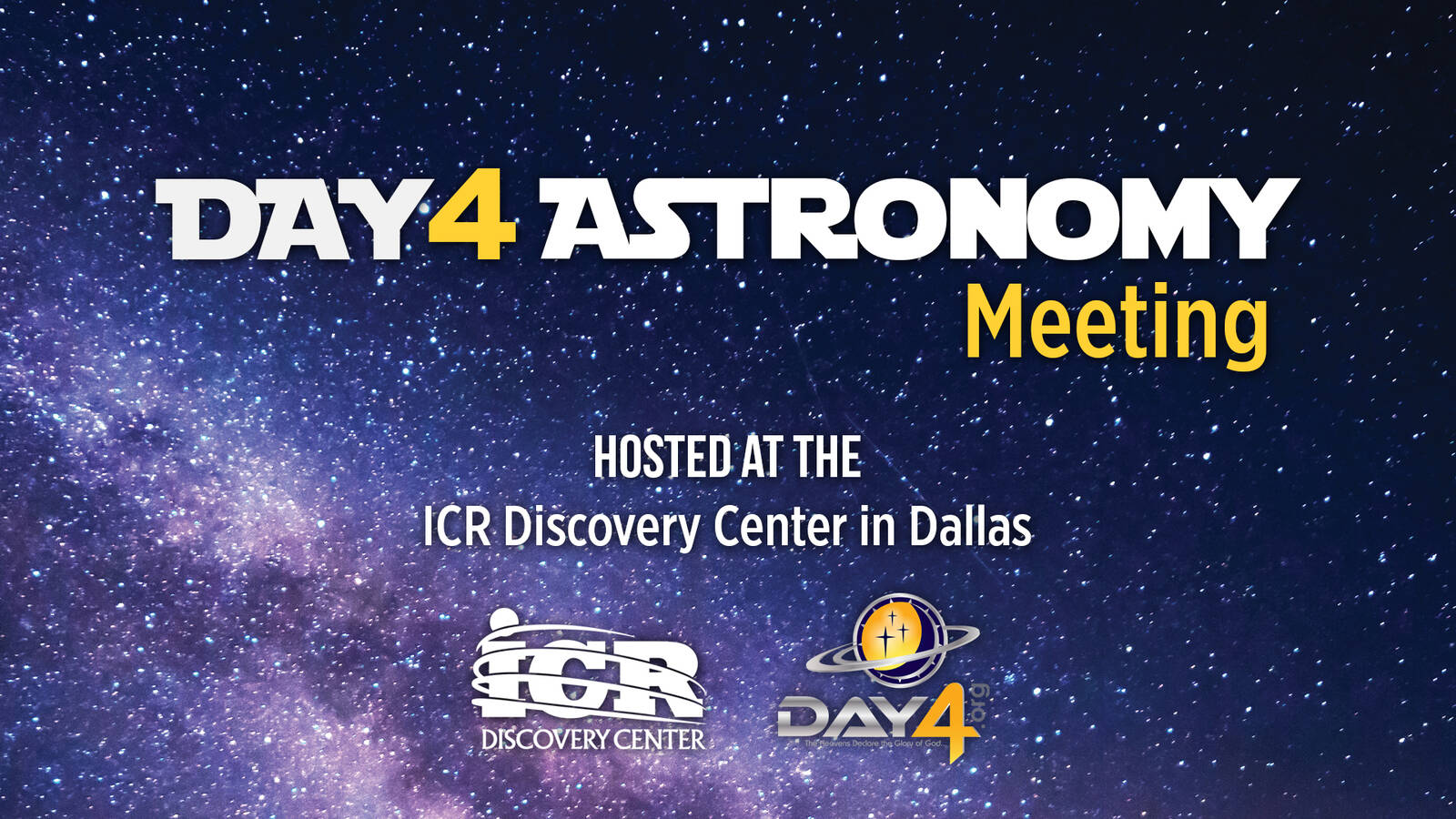 Day 4 Astronomy Meeting
Join us on the third Saturday of every month for the Day4 Astronomy meeting at the ICR Discovery Center. Explore the science behind how the heavens declare the glory of God! The meetings are free and no registration is required, however, the Exhibit Hall and Planetarium require a ticket for entry. If you wish to explore these other astronomical ways that science confirms the Bible, please see Guest Services at the front desk or you may purchase tickets here in advance.
Schedule
10:00 AM — Founder's Hall Doors open
10:30 AM — Meeting starts
12:00 PM — Meeting ends
Location
Founder's Hall inside the ICR Discovery Center
Dates
January 21st

February 18th

March 18th

April 15th

May 20th

June 17th

July 15th

August 19th

September 16th

October 21st

November 18th

No December meeting
For more information about the meetings, please email parker@day4.org or see day4.org.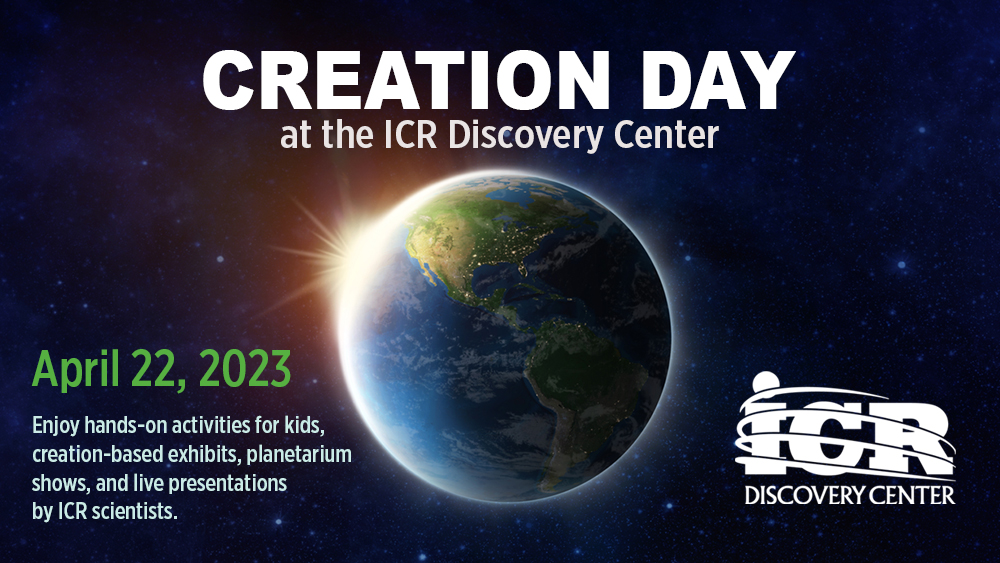 Creation Day
Join us on Saturday, April 22, for Creation Day at the ICR Discovery Center in Dallas, Texas. Learn great counterpoints and answers to naturalism and the deification of nature as popularly celebrated on Earth Day. ICR scientists will address the topics of climate change, naturalism, and Earth worship, and will share solid evidences for special creation by the Lord Jesus Christ.
In addition to live presentations by ICR scientists, Creation Day will also feature hands-on activities for kids in grades K-5.
Registration
Registration is free, but space is limited! Register here.
Livestream Option
Eager to participate, but unable to attend in person? Livestream (and a replay) will be available! Subscribe to ICR's YouTube channel for notifications when ICR goes live.
Date: April 22, 2023
Schedule
Time
Session
Speaker
Description

10:00 a.m.

ICR Discovery Center opens

10:15 a.m.

"Scientific Evidences for Creation"

Dr. Frank Sherwin

Critics regularly say, "Creation is either something you believe or don't believe, but there's no evidence for it." The case for creation is rooted in what Paul teaches in Romans 1—that God's work and attributes are "clearly seen." Dr. Sherwin describes the tools needed to discern objects that have been made (created) vs. objects that form over time through chance and natural processes. He then provides convincing evidence for creation from the microscopic world (bacteria and molecular machines) and the macroscopic world (animals like the bat and woodpecker).

11:15 a.m.

"The Wonderful Oceans"

Dr. Frank Sherwin

Dr. Sherwin discusses the amazing variety of marine life found in venues from tidal pools all the way to crushing ocean depths over five miles down. He also talks about the critical connection between moon-induced tides and weather, and important paths or currents in the oceans mentioned in Scripture (Psalm 8). Finally, he addresses how the volume of water in the oceans relates to the Genesis Flood.

12:00 p.m.

Break for lunch

1:15 p.m.

"Climate Change and the Christian"

Dr. Jake Hebert

Dr. Hebert presents five reasons Christians should not panic over the climate change issue. Both his Ph.D. research and recent ICR seafloor sediment / Ice Age studies are relevant to this hot topic.

2:00 p.m.

Q&A with speakers

2:30 p.m.

Dismiss to exhibit hall and planetarium (additional ticket purchase required).
For more information please call 214.615.8325 or email events@ICR.org.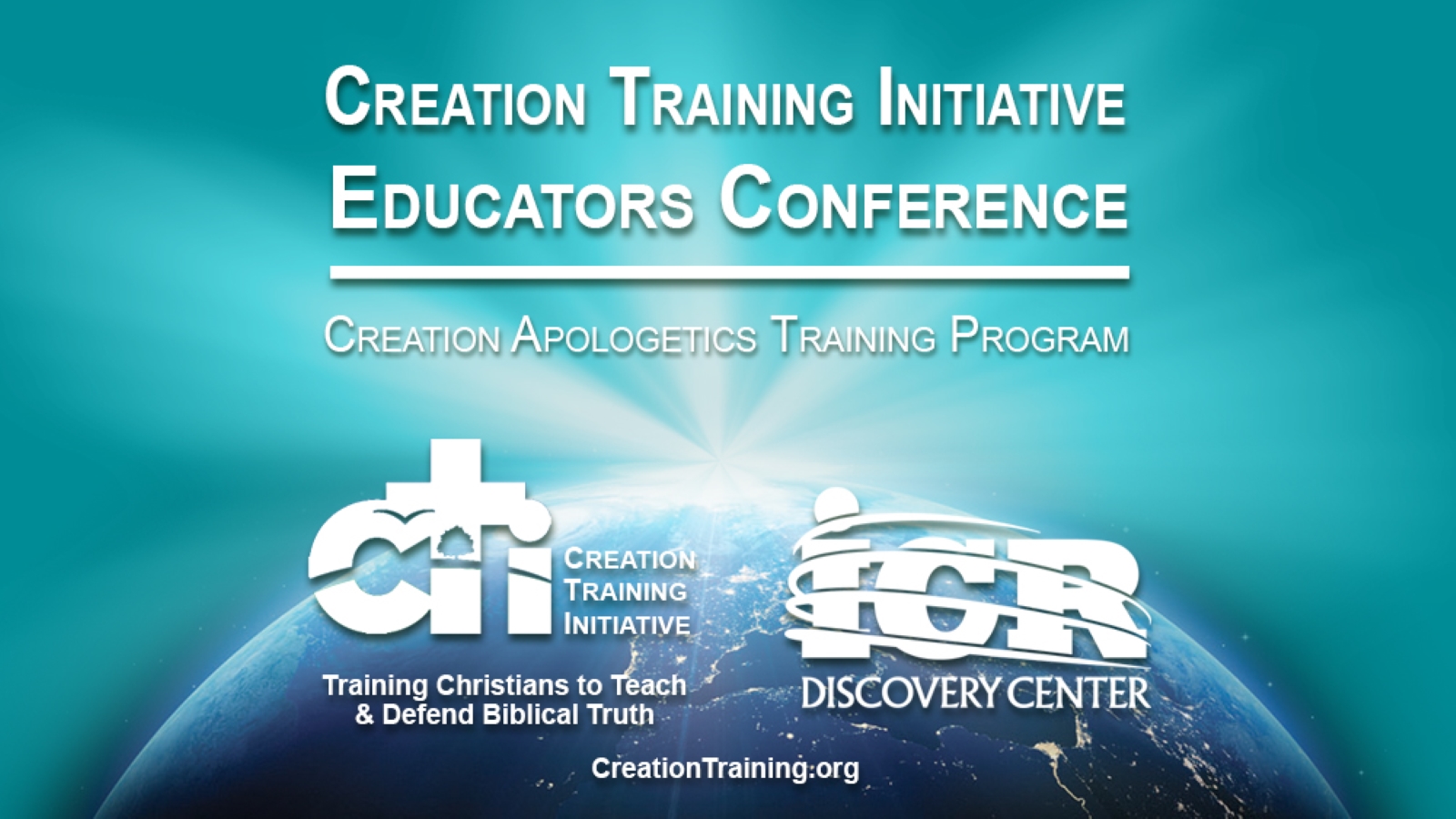 2023 Christian Educators Conference
In conjunction with the Creation Training Initiative, the Institute for Creation Research will host the Christian Educators' Conference at the ICR Discovery Center. Mr. Mike Riddle and Dr. Anthony Silvestro from the Creation Training Initiative will lead the sessions in this conference.
Preaching and teaching the biblical narrative of six-day creation and the worldwide Flood as real history is an essential doctrine of Scripture with practical present-day implications for believers in Christ.
Dates:  Tuesday, June 13, 2023 – Friday, June 16, 2023
Registration
Register by May 13th, 2023 at the cost of $75.00 per person. After May 13th, the cost is $85.00 per person. The cost of the course includes a training manual, and admittance to the ICR Discovery Center Exhibit Hall each day. Registration can be made by mailing payment to:
Creation Training Initiative
PO Box 2415
Eagle, ID. 83646
Seating is limited, so register early!
About This Event
Creation Training Initiative's Christian Educators' Conference spans four days and is designed to provide Christian educators with the awareness, knowledge, and importance of Biblical apologetics. This conference intends to equip the next generation with this knowledge so that they can defend their faith and be better prepared to share the Gospel of Jesus Christ with confidence.
This conference is intended for Christian educators (private school, Bible study, Sunday school, home school), pastors, or anyone interested in teaching or speaking. The class format includes lectures, exercises, and class participation. In addition, Christian school teachers earn 3.5 CEUs through ACSI towards recertification.
This is a great opportunity to ask questions and learn how to teach your students about creation vs evolution, the sanctity of human life, Critical Race Theory, and how to help them to defend their faith.
Schedule
The Christian Educators Conference starts at 1:30 p.m. on Tuesday, June 13th, and concludes at 12:00 p.m. on Friday, June 16th. Please plan to arrive early on Tuesday to check-in between 12:30 p.m. and 1:30 p.m. You are also welcome to arrive early on Tuesday (starting at 10:00 a.m.) or stay late on Friday (until 5:00 p.m.) to experience the ICR Discovery Center Exhibit Hall (included in your registration) and Planetarium (tickets sold separately).
Outline of Topics
Chapter 1: Establishing Biblical Foundations

Chapter 2: Critical Thinking Skills and Tactics

Chapter 3: How to Understand the Days of Creation

Chapter 4: Theological Problems with an Old Earth

Chapter 5: Biblical Apologetics

Chapter 6: Taking the "Oomph" Out of Evolution, Part 1: The Origin of Life

Chapter 7: Taking the "Oomph" Out of Evolution, Part 2: Natural Selection

Chapter 8: Presuppositional Apologetics, Part 1: Introduction

Chapter 9: Presuppositional Apologetics, Part 2: The Problem of Evil

Chapter 10: The Purpose and Dynamics of Christian Education

Chapter 11: Taking the "Oomph" Out of Evolution, Part 3: The Fossil Record

Chapter 12: Taking the "Oomph" Out of Evolution, Part 4: Dating Fossils and Rocks

Chapter 13: Dinosaurs and the Bible

Chapter 14: Taking the "Oomph" Out of Evolution, Part 5: The Origin of Humans

Chapter 15: The Sanctity of Human Life

Chapter 16: Critical Race Theory / Social Justice Movement
Lodging
For nearby hotels that have discounted rates for ICR Discovery Center guests, please visit: Places to Stay on the Discovery Center website.
For more information or to register, please call 859.250.7987 or email Creation Training Initiative.